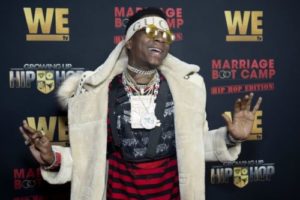 Soulja Boy us the latest rapper/celeb to visit the Breakfast Club, with a bargaining chip on his shoulder. Of course, every
BC
interview begins on the friendliest of terms, so long as DJ Envy plays the middle, Angela Yee remains objective, and Charlamagne Tha God leads the charge. But in this instance, only Yee held her ground, with Soulja Boy presenting one too many opportunities for Envy and Charlamagne to jump the shark.
For starters, an energetic Soulja Boy could barely hold still on the supposition that someone other than himself wears the GOAT horns. It was all too easy, Charlamagne Tha God and Envy using the bait and switch to maximum efficiency, by insisting Drake was the "biggest rapper in the World."
Inevitably, Soulja Boy wasn't hearing any of that. Twice removed from his chair, Soulja launched into a heated diatribe against the Canadian rapper. "Draaaake? the n***a that got bodied by Pusha-T?," he answered quizzically as his hosts turned away in silence.
Then out of nowhere, Soulja anoints himself the granddaddy of rap, absorbing any value associated with Drake's career in the process. Cognizant that he is being filmed, Soula Boy flashes a shit-eating grin while delivering his final credo on the subject: "Stop telling me like I ain't teach Drake everything he know.."
This wouldn't the last occurrence of oppositional behavior. Charlamagne saw to it that Soulja Boy broached the subject of Kanye West, and a second less vociferous message to Tyga, in response to his anointment as the Internet's choice for "Comeback Artist of 2018."
"We looking at you like you goofy, bruh," Soula says of Kanye West. "You up here supporting Trump and shit, bruh. You supporting Trump, bruh?" At the utterance of Tyga's name, Soulja Boy was far less diffident. "Tyga…Tyga…Tyga," he shouted quizzically, "The n***a who let Travis Scott steal his b*tch?"