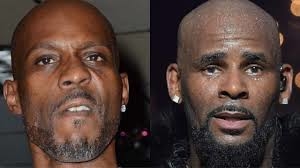 R.Kelly's infamous reputation for his alleged sexual misconduct is being considered a known fact amongst music industry figures. DMX was part of the lot that was aware of the claims of his amoral acts and eventually became one of the few to call out the singer. In a 2009 interview with DJ WhooKid, DMX recalled feeling insulted by Kelly who decided to isolate himself in a separate room during their studio session.
"You f**king b**ch a** n**ga!" DMX yelled. "When I see you I'm gonna spit in your f**king face, f**got! F**k you! F**k that n**ga! F**k that n**ga with a elephant d**k you f**king b**ch!"
He later explained his anger. According to his memory, Kelly had invited him to the studio being "pressed to do a song for a minute." When the rapper showed up, Kelly was nowhere in sight. DMX still got cracking on a track, waiting no time. The emcee only realized R. Kelly was in another room when the singer's then-manager requested feedback from his client.
"He didn't have enough respect to come in the same room I'm in," X recollected. "You didn't have enough respect to talk to a n**ga face to face, he had to talk through a crack in the door, because he in there with a minor?!"