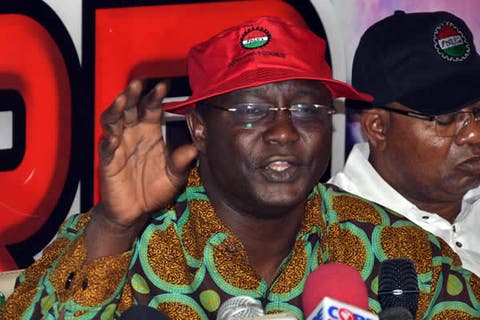 Olufemi Atoyebi, Abiodun Nejo, Bola Bamigbola, Ada Wodu, Theophilus Onojeghen, Olaide Oyelude, Ogbonna Casmir, Tunji Bosun, Patrick Odey, Adekunle Peter, Godwin Isenyo and Peter Dada
There are strong indications that the state chapters of the Nigeria Labour Congress will as from May 1 begin talks with their state governments on the implementation of the N30,000 minimum wage recently approved by President Muhammadu Buhari.
Investigations by The PUNCH on Sunday showed that while some state chapters of the NLC would begin meeting with the state governments on May 1 (May Day), others insisted that they would wait for a circular from the National Salaries, Incomes and Wages Commission before they could start negotiation.
The unionists said that they would not tolerate any reduction in the N30,000 minimum wage by any state government.
Ekiti NLC to meet state govt
For instance, the Ekiti State Chairman of the NLC, Olatunde Kolapo, in an interview with The PUNCH on Saturday, said labour would meet with the state government on May 1.
Kolapo, who was inaugurated as the NLC state chairman on Thursday, said, "We just came on board. The meeting with the state government will take place next (this) week. Wednesday is Workers' Day. That is still an avenue. All we need to know is when to expect it.
"There is no negotiation again because it has been signed into law. So, as a law, it is binding on all state governments to implement it. There is no going back on it. Workers in Ekiti State are looking forward to it."
On what would happen if the state government came up with excuses, the labour leader said, "I don't think the Ekiti State Governor, Dr Kayode Fayemi, will have any different view because his Chief of Staff, Mr Biodun Omoleye, who represented him at our delegates' conference on Thursday, spoke the mind of the government on the readiness to pay.
"I want to believe there is no cause for alarm. Labour will not take anything short of the N30,000 minimum wage in Ekiti," Kolapo said.
We will write to Osun govt this week – State NLC
However, his Osun State counterpart, Jacob Adekomi, said the chapter had received the communication last week from the NLC national headquarters to begin negotiation.
He said the state NLC had urged the state government to immediately set up a committee that would negotiate the new minimum wage with the labour movement.
Adekomi said the leadership of the NLC in the state would formally write to the state government this week to request the setting up of the committee that would negotiate with workers on the new wage.
"It is a law. New minimum wage is a law that must be respected. We believe the government will do the needful. We will write to the state government this week to request the committee that will negotiate with us," Adekomi said.