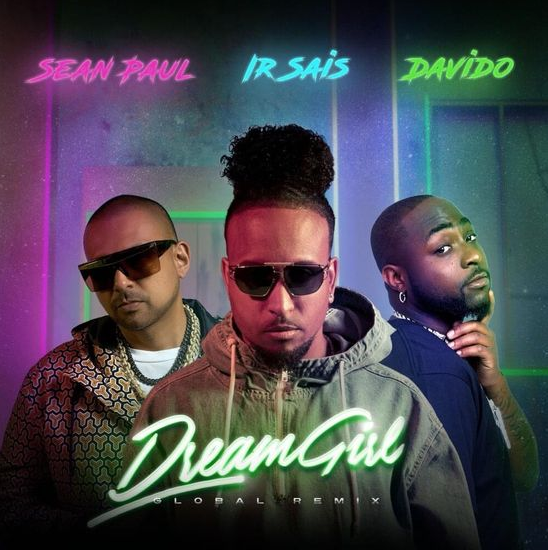 Sean Paul x Ir Sais x Davido – "Dream Girl" (Global Remix), produced Ir Sais.
For "Dream Girl" (Global Remix) Bonaire singer and music producer, Ir Sais teamed up with Sean Paul and Davido.
Two years ago, Ir-Sais (real name: Irgwin Placido Sluis) released his single "Dream Girl," singing about the girl of his dreams in his native language, Papiamento. The song became a global hit in 2019 when he did a remix with Puerto Rican singer, rapper and songwriter, Rauw Alejandro LISTEN.
Fast forward to now been 2020, Ir Sais comes through with a Global which feature our very own Pop star, Davido – Baddest!!!
Listen to "Dream Girl (Global Remix)" and Also Watch its music video Directed by Ryan 2D Navarro below… ENJOY!!!
"Dream Girl (Global Remix) Lyrics"
[Intro: Sean Paul x Ir Sais]
Dream Girl Oh-oh, oh-ohh
Ir Sais and Davido longside Sean a Paul for make the gyal them feel nice, full!
Nos a sali di Boneiru pa Jamaica anto Jamaica pa Nigeria
Come on
[Verse 1: Sean Paul]
Burri dang bang bang
Say no matter which way you look 'pon it
Girl I gotta thing for you (see)
Queen bee in a the pack I am king for you
I don't care what them other guys bring to you (no way)
I gotta a loving to go fling to you
Passionately ma heart just a sing for you
Baby girl you know me a cling to you
House, car and land and all ring for you
Because you change me life so me a into you
[Chorus: Sean Paul]
T'abo ta me dream girl
You me say me need you in my world
Make a haste mi girl and bring it come
Make a haste mi girl and bring it come
T'abo ta me dream girl
You me say me need you in my world
Make a haste mi girl and bring it come
Make a haste mi girl and bring it come
Dream ah-uh
Oh-oh, oh-ohh
Dream ah-uh
Oh-oh, oh-ohh
Dream Girl
Mi stimabo asina tantu
Dream ah-uh
Oh-oh, oh-ohh- oh
Mi stimabo asina tantu
Dream ah-uh
Oh-oh, oh-ohh, oh
Mi stimabo asina tantu
[Verse 2: Ir sais]
Baby stay, baby say, now
Baby wardam'un ratu lo mi tei
Lihe, lihe, ooh
Lo mi dunabu amor, sufrisiente
Ah, baby say ooh uhh
Mami t'abo ta mi dream girl
T'abo so ta parese te e e
Mami t'abo so mi tin, ey ey ey
Bo t'esun ku mi ta feel, oh oh oh
Ku bo mi ta feel save
Paso t'abo so mi ke
I abo ta mi, dream, girl
Dream ah-uh
Oh-oh, oh-ohh
Mi stimabo asina tantu
Dream ah-uh
Oh-oh, oh-ohh- oh
Mi stimabo asina tantu
Dream ah-uh
Oh-oh, oh-ohh, oh
Mi stimabo asina tantu
[Verse 3: Davido]
Middle of the something
Straight to something
Me, I like the pumping
I get a long thing
This thing your ass get, e get asset
You book Delta, you say you dey Jet
Why you lie to me?
Omo I go buy you Louis V
Omotena as long as you with me
Bere lowo lowo D&G
Omoge you be my dream girl
When I watch the world I see you yeah
When I am drunk I still dey see you clear
Girl I won't lie I gbadu you die
Omoge you be my dream girl
When I watch the world I see you yeah
When I am drunk I still dey see you clear
Girl I won't lie I gbadu you die
Mi stimabo asina tantu
Dream ah-uh
Oh-oh, oh-ohh- oh
Mi stimabo asina tantu
Dream ah-uh
Oh-oh, oh-ohh- oh
Dream Girl
Se se se
Ora bo kere ta asina asina e konan ta bai….
Anto bo sa,
K'e muhenan ta powerfull, the queen
Esaki t'e remix, esaki t'e remix… yeah yeah
Wa wa Dream Girl
Dale Iri paso ku mi