The Most Anticipated Album from the studio of DMW – 'RUM & BOOGIE' by PERUZZI is Finally Out!
DMW's Vibes machine, Peruzzi Drops his highly anticipated second studio album titled "Rum & Boogie" Today April 9, 2021. This project entertained us with impressive lead singles; 'Lagbaja', 'Isolova', 'Southy Love' (which features Fireboy DML) and the recent 'Somebody Baby' (featuring Davido).
For anyone who's experienced the highs and lows of modern dating, or toed the line between playful flirtation and serious commitment, Peruzzi 's second LP, Rum & Boogie, offers a highly relatable narrative. Punctuated with soulful vocals, humour and a ton of energy, it's a double album that explores two distinct moods. "The Rum part represents, or tells, all the love stories and the emotional stuff," he tells Apple Music. "The whole ups and downs of life, and all that shit. And then the Boogie part, we decided to make it the happy part—it has all the club songs, all the uptempo songs. It's all the stuff people haven't seen me do before—me trying new things."
In experimenting with genres from dancehall to Afrosoul, he's not afraid to learn from those around him. "I like to see myself as a humble person, because I feel like when you're humble you tend to learn more," he explains about his approach to growing as an artist and working with legends like Burna Boy, Don Jazzy and Barry Jhay. Guests here include Tiwa Savage, Fireboy DML and Davido, who signed him to his DMW label in 2017—and who continues to inspire his hustle. "When I met him I thought, he's already achieved so much; he's supposed to play and chill—but he was in the studio until 6, 7 am," says Peruzzi. "It showed me that the higher you go, the more you have to give. And that's what drives me today."
"Rum & Boogie" Long Project (LP) is a complete 20 track album in two side. Side A is RUM and it consist of 10 tracks, Side B is BOOGIE and it also consist of 10 tracks. It features Guest artistes; Davido, Tiwa Savage, Wande Coal, Don Jazzy, Phyno, Patoranking, Fireboy DML, Boylexxy and Set Up. And enlist the following producers; Speroach Beatz, Lussh, Vstix, Freash VDM, Mr Eff, Rexxie, Show Beat, P.Priime, Clemzy.
See The Album Tracklist Below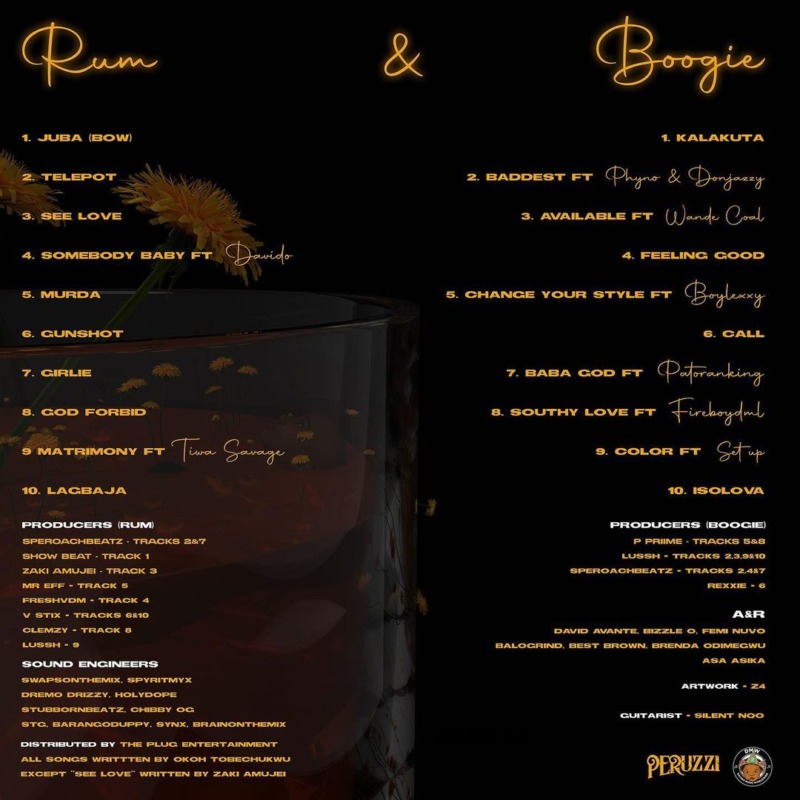 Peruzzi reveals the story behind key tracks from Rum & Boogie. Read Below
"Juba (Bow)"
"I don't want to call it a gospel song, but it's basically me saying thank you to God for first of all this album, making it possible for me—as well as the whole journey, you get me? It's a gratitude song."
"Somebody Baby" [featuring Davido]
"Almost every guy can relate to this one. Even girls too can relate to the song. When you feel like you have this connection with somebody, and then you guys actually chill. Whenever you want the person around, the person comes through; when the other person wants you around, you go, you pull up—you get me? And then it feels like, 'Okay, it's getting to the point where it's obvious that we feel each other. And it's obvious that people are beginning to see us outside as an item.' And then you're just trying to find out what's really going on. And then you ask her and she's like, 'Oh, we're just friends.' Only for you to realise that she actually has been dating as well; she has a boyfriend. I mean, you've just been there and deceiving yourself."
"God Forbid"
"'God Forbid' is a guy telling his girl that it's obvious I have too many girls coming after me, but I'll do anything, I'll fight for you. And God forbid I hurt you. God forbid I do something wrong. God forbid I leave you for them. I'll fight to have you and it's you I want. No matter what they try, they won't get me."
"Matrimony" (feat. Tiwa Savage)
"I like to call it my next 'Majesty' [the chart-topping track from his 2018 EP HeartWork] because it's like the next wedding song. It's going to be the biggest wedding song in Nigeria when it drops, by the grace of God. It basically tells that wedding story, you get me? Just being happy with who you're getting married to. And also confirming that there's nobody else—that he or she is not somebody's baby. So basically a happy song."
"Kalakuta"
"Kalakuta is a place where we who get lit, people in the streets—they call it their comfort zone. Because when you're in Kalakuta, you are allowed to do anything. So Kalakuta signifies the place of no worries. Nobody judging you, nobody telling you what to do. As long as you behave yourself, everything will be fine. I'm in the place where I don't want no trouble; I'm just trying to do my thing. But if you want trouble, I'll give you trouble."
"Baddest" (feat. Don Jazzy & Phyno)
"This is highlife music, which they play more in the eastern part of Nigeria. So I had to call my Igbo brothers to join me on that one—Jazzy and Phyno. The song is basically me painting a picture of myself being in a club, being in a party. And then there's just something about this particular girl, you get me? Her body's not exposed, but she's just fine. She's just the baddest person in that club that night. I love highlife music, but they don't really play it everywhere in Nigeria, so I'm trying trying to bring it back to the clubs."
"Available" (feat. Wande Coal)
"'Available', as the title says, is basically trying to know what's up. Because I'm high, I'm drunk and I'm down for anything, but still I don't want trouble, you get me? So I'm going to do what you want to do, but you have to make me know that there's no consequences. So that's why I'm asking, 'Are you available?' There's a lot of questions going on, just before I make my decision on whether or not to leave the club with you. That's the principle."
"Baba God" (feat. Patoranking)
"'Baba God' is basically me counting my blessings, right? And realising that there's no minuses, like everything God has done for me has been perfect."
"Southy Love" (feat. Fireboy DML)
"'Southy Love' was the first song we tried the uptempo beats. And we realised people actually love that vibe. Because usually it's the normal slow songs I like to do—and maybe a little bit of dancehall. But that was like a different party. We added a piano feel to the whole Afrobeat infusion as well. 'Southy Love' is basically just missing somebody and trying to make the decision to take that flight. Just wanting somebody so bad and thinking like, 'You know what, nah, I'm coming to you. If you can't make it here, if you're too busy to make it here, I'm coming.'"
"Isolova"
"There's this thing that happens in Nigeria—for example, when you're trying to get something, but then you make a particular mistake that you can't undo. So you just say, 'Guy, isolova!'—it's all over. Nothing can be done about this particular situation."
Listen and Enjoy the Project below
STREAM On iTunes