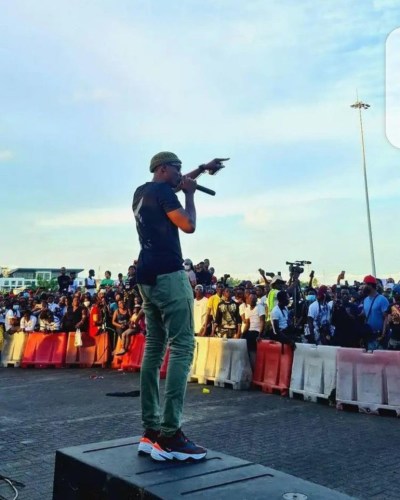 It's been a year, but the wound is forever fresh in the minds of Nigerians.
Nigerians all over the country have come out to remember those who were killed during the #endsars protest in 2020. As expected the government had other plans in store for them. They stationed policemen at the Lekki tollgate where the memorial car procession was to take place. They tear-gased and arrested peaceful protesters whose only offence was reminding them of how they killed innocent protesters last year.
Reacting to the arrest, Nigerian celebrities took to their IG account to call out the government following the unlawful arrests of protesters.
The late Sound Sultan also shared an old clip of the #endsars protest on his IG account. He posted a photo of himself at Lekki Tollgate, protesting against police brutality in 2020.
This is coming months after his IG account was hacked and the hackers used the opportunity to ask grieving fans for money to support the family.
Netizens overlooked that fact as they flooded his comment section with teary eyed emojis, love emojis, dove emojis. They pleaded with the late musician to beg God on their behalf to help Nigeria, that they have suffered enough.
They also recounted how Sound Sultan fought against bad governance and police brutality when he was still alive and how they disappointed by not winning the fight.